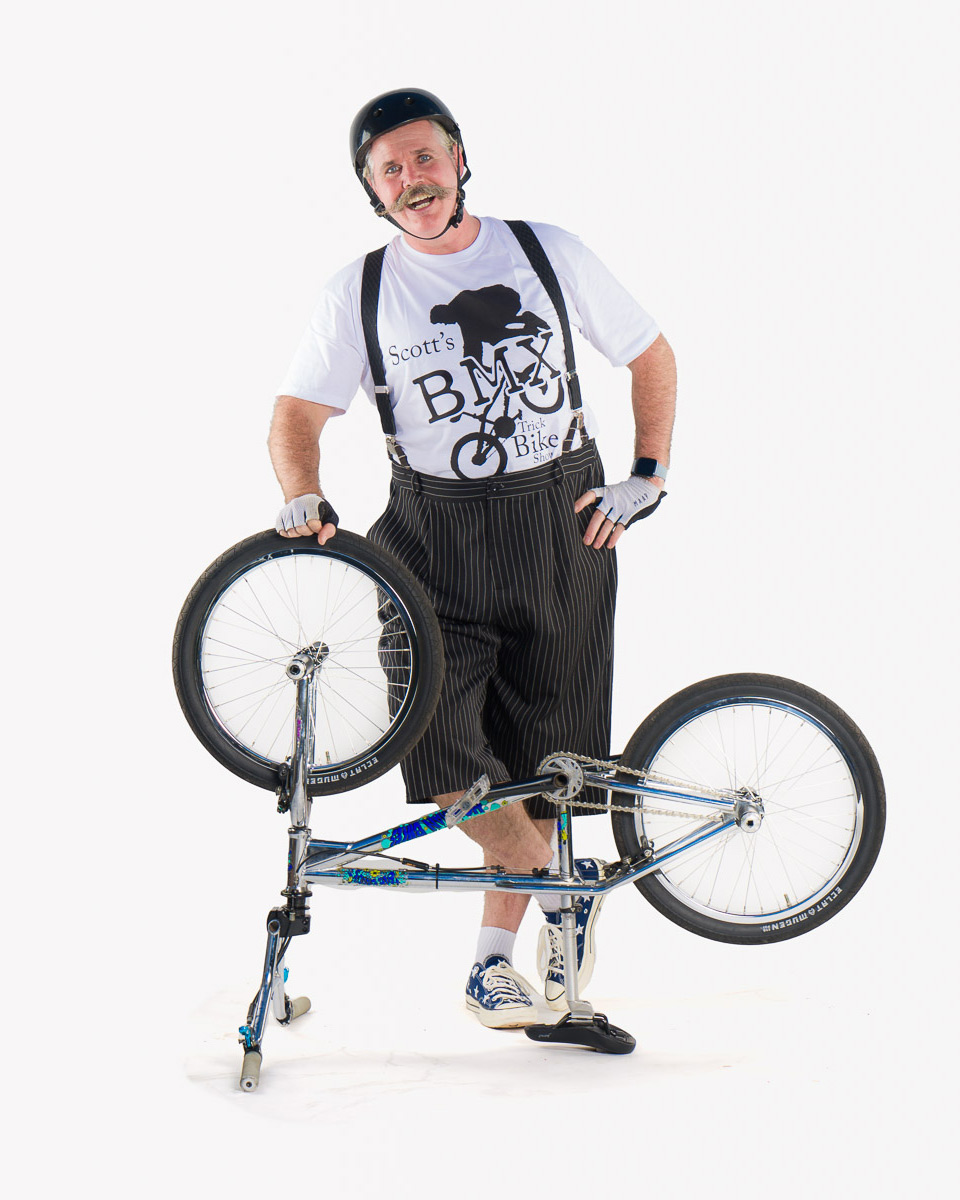 As a circus artist, I am passionate about inspiring children to pursue their dreams with perseverance and imagination. Besides being a performance, my show is an invitation to explore the magic of the circus and the endless possibilities of creative expression.
My art aims to showcase the beauty and intricacy of flatland BMX, a unique style of riding that combines creative expression with technical skill. But my passion for the circus doesn't stop there. I incorporate other circus skills such as clowning, contact juggling, club juggling, and cigar box manipulation into my performances. Moreover, I integrate the skilful art of audience participation, but not with just one audience member. Instead, I invite up to six volunteers on stage, creating a dynamic spectacle that showcases the full range of my creative and physical abilities. This collaborative effort leaves the audience volunteers feeling triumphant, adding to the unique and memorable experience.
Each performance is a carefully crafted showcase of my years of training, performing, touring, and dedication to circus. I hope to inspire young audiences to discover and pursue their own passions with the same level of determination and focus.
My passion for the circus extends beyond clowning, juggling and BMX. As a fan of the circus since childhood, I am inspired by the artistry and extravagance of the big top—from daring acrobatics and ridiculously funny clowns to colourful costumes and whimsical and creative set designs. In my performances, I aim to capture the same sense of wonder and excitement that I felt as a child, and to show children that anything is possible if they are willing to work hard and dream big.
My show is built on the belief that art and athleticism can combine to create something truly extraordinary, and I truly believe that the circus is a perfect example of this. By incorporating BMX and elements of the circus into my performances, I hope to inspire children to explore the full range of their creative and physical potential, and to see the world as a place of limitless opportunity.
In short, my BMX show is not just a spectacle, but a celebration of the circus, a lesson in the power of passion and perseverance, and an invitation to discover the magic of creativity and self-expression.
—Scott Hone